Instructional School on AI and ML

Date: March 23-25, 2023
Venue: The Kotak IISc AI-ML Center, Department of CDS, IISc, Bengaluru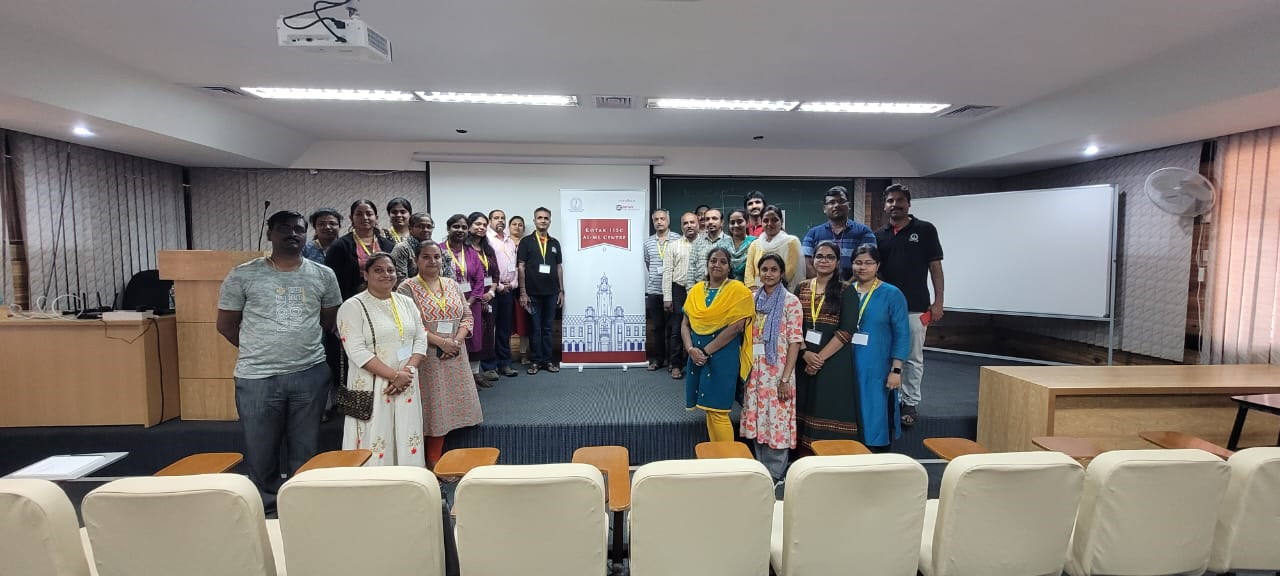 A 3-day Faculty Development programme on "AI and ML for researchers" was organized by BITES in association with IISc at IISc, Bengaluru from March 23-25, 2023.

The Kotak IISc AI-ML Centre (KIAC) has been established with financial support from the Kotak Mahindra Bank Limited (KMBL) through a corporate social responsibility (CSR) grant.

The Instructional school was organized for the faculty of various Engineering colleges of Karnataka with the objective of introducing AI-ML concept from the Industry perspective and how to leverage the benefits of AI-ML to academics and research.

The Programme started with opening remarks from Prof. Sashikumar Ganeshan Co-convener of KIAC. He spoke about role of Artificial Intelligence (AI) and Data Science in different domains like E-commerce, Healthcare, Business, etc.

Summary of Sessions:
Mr. Deepak discussed various aspects of Machine Learning (ML) with concepts and applications.

Prof. Sundeep Prabhakar Chepuri from department of ECE, IISc. discussed about evolution of Neural networks and Deep learning concepts

Mr. Abhishek kumar Singh from Materials research centre, IISc gave a presentation on Generative Adversarial Networks (GANs) and its applications.

Prof. R. Venkatesh Babu from department of CDS, IISc, highlighted about AI-ML in Computer Vision applications like image captioning, semantic segmentation etc

Ms. Shachi Dave from Google Research India, spoke about Recontextualizing Fairness in Natural Language Processing (NLP) and perturbation analysis.

Prof. Viraj Kumar from IISc gave insights into different aspects of AI-ML in day-to-day applications.

A panel discussion with the theme "Think AI-Think Multimodal" was part of the programme with Dr Bharath Mohan, Prof. Viraj Kumar and Prof. Gowri Sivastava
There was Hands-on sessions on all the days from Mr. Thivinanandh and team using GitHub AI programming tool Co-pilot with VSCode.
To conclude, the theory sessions were informative and helpful for the participants. Hands-on sessions were very interactive and gave insight into different AI tools for teaching and research.